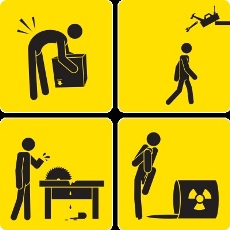 No matter how many policies and guidelines are laid out for workplace safety, it's impossible to have a work environment that is hazard-free without ensuring that all employees are aware of those guidelines and put them into practice. A safe working environment is based on how all workers of all levels adhere to and communicate about safety standards at work. The foundation of any workplace that is safe with minimal risk of hazards and danger is one which encourages employees to identify any hazards and unsafe behaviors which they see as well as offer their own suggestions for improving safety.

Be Aware of Your Surroundings
The number one tip all employees should know is that being aware of their surroundings at work can help to prevent accidents and injury. Ensuring that all employees know how things should be laid out and how to quickly spot if anything is wrong can help to keep risks and hazards to a minimum as workers will be able to report anything which seems off straight away.
Use Correct Posture
Even employees who work at office jobs can be injured by not having the correct posture. All employees should be advised of correct posture in order to be avoid being hurt. Those who work at desks should keep their shoulders in line with their hips in order to avoid back problems. For workers who have jobs that involve bending and lifting heavy objects, it's important for them to understand the correct posture and procedures for doing this so as not to injure themselves.